Short Bio
Margarida Carvalho was born in 1988 in Oporto.
Since her early years science has ignited her curiosity, particularly in the field of Mathematics.
She earned a degree in this field by the Faculty of Sciences of the University of Porto (FCUP).
At the beginning of 2009, she started her collaboration with the Department of Computer Science in the Neurosciences division.
Alongside the creative component that this research activity introduced in her curriculum, she developed her skills by enrolling in 2009 the Mathematical Engineering MA.
To accomplish her master thesis, she made research in applied game theory in the electricity market.
Since 2010 Margarida is working for INESC TEC.
In 2012, her first PhD year, Margarida visits the University of Bologna, hosted by DEI and supported by an FCT grant, where she investigated bilevel programming.
The first semester of 2014, Margarida visited CORE, Université catholique de Louvain, Belgium. She studied the generalization of the classic lot-sizing problem to the case with several decision-makers.
In April 2016, Margarida finished with distinction her Ph.D. in Computer Sciences and started a postdoctoral research position in the Center for Industrial Engineering and Management at INESC TEC, Porto.
In March 2017, Margarida started an IVADO Fellowship within the Canada Excellence Research Chair in Data Science for Real-Time Decision-Making in the Department of Mathematical and Industrial Engineering of the Polytechnique Montréal.
In August 2018, Margarida became an assistant professor in the Department of Computer Science and Operations Research at University of Montreal. She currently holds a FRQ–IVADO Research Chair in Data Science for Combinatorial Game Theory.
Research
Research Interest: Bilevel Programming, Interdiction Problems, Integer Programming Games, Computational Complexity
Applications: Kidney Exchange Programs; Network observability with Phasor measurement unit (PMU).
Ph.D in Computer Science
Thesis - Computation of equilibria on integer programming games.
Advisor: João Pedro Pedroso; Co-Advisor: Andrea Lodi.
A. Caprara, M. Carvalho, A. Lodi, G.J. Woeginger, "A Complexity and Approximability Study of the Bilevel Knapsack Problem", in M. Goemans, J. Correa, Eds., Integer Programming and Combinatorial Optimization - IPCO 2013, Lecture Notes in Computer Science 7801, Springer-Verlag, Berlin Heidelberg, 2013, 98-109.
17th Aussois Combinatorial Optimization Workshop 2013 - Bilevel Knapsack with interdiction constraints
Master in Mathematical Engineering
Thesis - Nash Equilibria: a Case Study in the Energy Market.
Advisor: João Pedro Pedroso; Co-Advisor: João Saraiva.
Conference ALIO EURO 2011 - Nash Equilibria in Electricity Markets
Technical Report 2012 - Equilibria on the Day-Ahead Electricity Market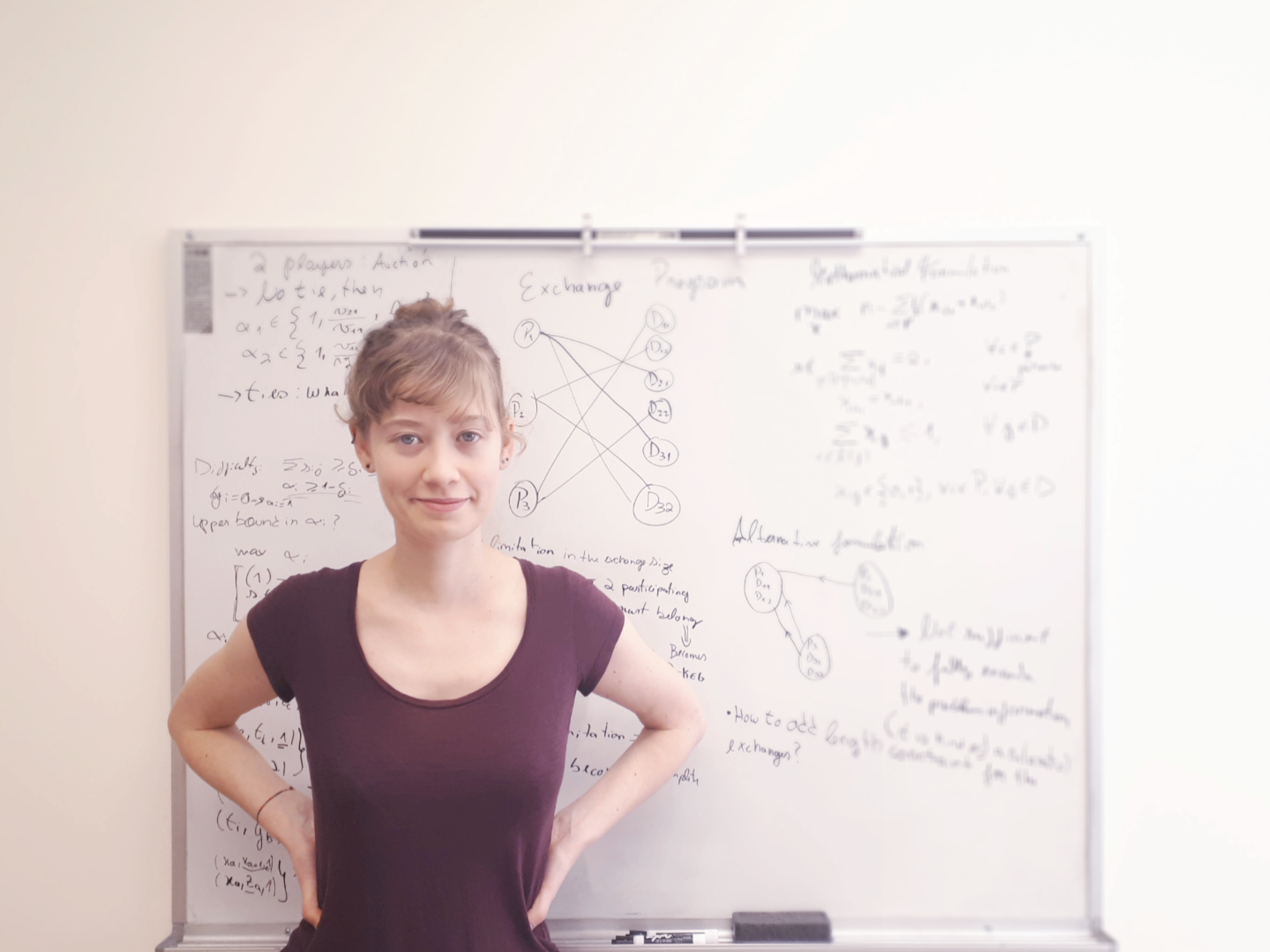 Follow @mxmmargarida
News
FRQ–IVADO Research Chair in Data Science for Combinatorial Game Theory.
Interview (in french) La théorie des jeux à la rescousse des stratégies de production.
I am organizing the monthly seminars Journal Club.
I was awarded the Prémios Novos 2018: CIÊNCIA.
I was awarded the EURO Doctoral Dissertation Award 2018. See Press.
Interview (in portuguese) Cadê Você?
My Ph.D. thesis was awarded the APDIO/ IO 2017 prize
I am a speaker in the 2017 Mixed Integer Programming Workshop: "An Integer Programming Game in Health-care"
Contact
I aim at promoting an inclusive and diverse group in my research program. Thus, I invite and encourage anyone that shares the same research interests to contact me. I am looking for students.
Office: 3387 pavillon André-Aisenstadt
Phone: 1-514-343-5941
carvalho[at]iro[dot]umontreal[dot]ca
Technical Reports
CERC
Affiliations
CERC in Data Science for Real-Time Decision-Making
Things that keep me busy in the spare time
Transparência Hackday: playing with names presented to Instituto dos Registos e do Notariado in 2014
My python script for Secret Santa (in portuguese Amigo Secreto)
My python script to process Italian earthquakes data
My python script to use djhero table as VJ